Best Audio Editing Software For Mac in 2023
It won't surprise you to find out that poor podcast audio turns off more than half of potential listeners. Ensuring your podcast features high-quality audio is essential to success, and, along with good recording equipment, finding the right audio editing tool is key to this.
At Cleanvoice, we understand the value of producing a high-quality podcast in post-production. In today's guide, we'll specifically review the best audio editing software for Mac. Along with exploring the features, pricing, and more of the best Mac-compatible tools on the market, we'll discuss further why these tools are so important. Let's go!
What Is Audio Editing Software?
Audio editing software is designed to allow complex editing of audio files or/and the generation and exporting of audio data. These tools can offer a wide array of features ranging from the essential editing controls to more complex capabilities like batch processing and audio restoration.
As a podcaster, you might use this software to mix, delete, and edit your podcasts to ensure a high-quality listening experience for your viewership. Also, some audio editing software comes with automation capabilities that can greatly speed up the post-production process (e.g., automatic background noise remover and AI-powered silence remover).
Why Are These Tools Important?
Improve The Quality of Audio Content
Of course, the initial recording of your podcast will be chock-full of imperfections (e.g., background noise, mouth sounds, filler words). Good audio editing software will give you the chance to clean up the file through a range of editing techniques and/or automations to produce a polished and crisp end result.
Eliminates Manual Audio Adjustments
As touched on, good audio editing software can clean up your audio thanks to the use of sound-mastering tools and various automated features.
Can Free Up Plenty of Time
Naturally, using good audio editing software can make the post-production process more time-efficient. This is more a matter of using the right sort of tool and one that offers plenty of automation and (as touched on above) can eliminate or at least limit manual audio adjustments.
By using the right audio editing software, you can swiftly finalize your next podcast episode for launch and free up time to focus on other aspects sooner (e.g., working on a new script or securing a future guest).
Best Audio Editing Software Mac
Key takeaways
Here are the best audio editing tools for Mac:
Cleanvoice - Perfect for automating the essentials and some more.
Audacity - Best free audio editing software.
Pro Tools - Great for those seeking a high-end workflow.
Fission Audio - Good middle-ground option.
Adobe Audition - Top-of-the-market audio editing software.
#1: Cleanvoice
Cleanvoice is an AI audio editing tool that can remove unwanted sounds (e.g, background noise and stuttering). You can also use Cleanvoice to help with other aspects of the podcast process such as those relating to the development and pre-production stages.
This tool is a SaaS and thus you can use it on your Mac PC without the need to download any software.
Relevant Features
One of several AI-powered features provided by Cleanvoice, this feature automatically removes unwanted pauses/silences from entire podcast episodes. This feature even offers context-based editing, in that, the silence remover can keep pauses short when speakers pause to think, but longer between topic changes!
Cleanvoice's podcast mixing can automatically deal with audio editing aspects like level balancing and loudness normalization.
Another helpful feature of Cleanvoice that separates it from much of the competition is its AI-powered podcast audit. Cleanvoice's algorithm can evaluate your podcast on a range of metrics before providing actionable tips.
Pricing
Cleanvoice is available on a subscription or pay-as-you-go basis. We also offer a free trial, giving you the chance to try out our service for free before committing to a paid edition.
As a podcast professional seeking an editing tool to use on an ongoing basis, a subscription payment will probably make more sense than pay-as-you-go.
Pros and Cons
Pros:
User-friendly
No need to download any software
May help you with your podcast's SEO
Cons:
May not have all the specific audio editing features you're looking for
Internet connectivity always required since its an SaaS
May prove expensive on an ongoing basis
 #2: Audacity
Audacity is a free, cross-platform audio editing tool that covers all of the basics and a bit more to help perfect your podcast audio. It is, however, not quite as automated as tools like Cleanvoice.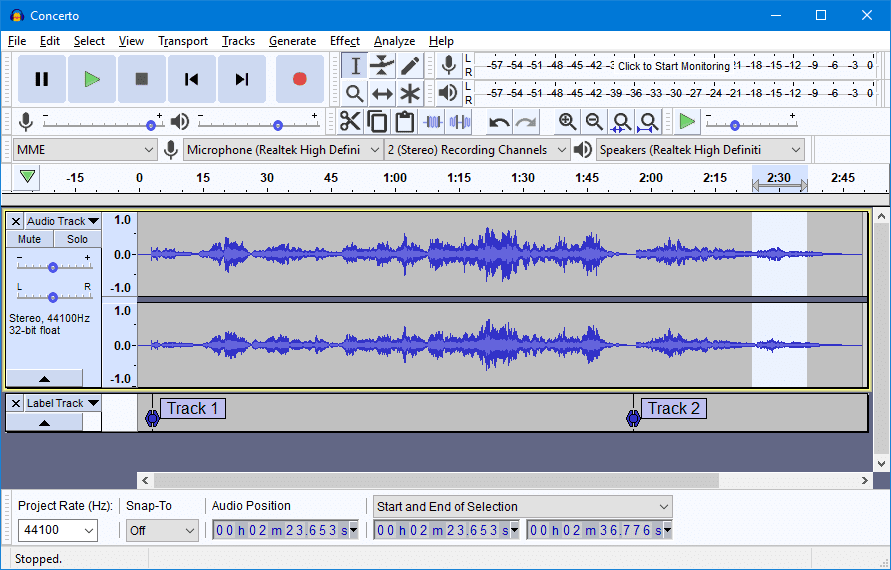 Relevant Features
Audacity covers all of the basics when it comes to editing audio files. You can cut, copy, paste, and delete sections of audio and utilize multiple tracks to enhance your listener's podcast experience.
You can record audio directly into Audacity by connecting a high-quality microphone to your Mac.

Audacity comes with over three dozen audio effects including echo, crossfade tracks, and normalize. You may not need these effects at all but they can come in handy for creating cool intros and outros or for taking a more creative approach to your podcast edits.
Pricing
Once again, Audacity is completely free, perfect, if you want to keep costs to a minimum.
Pros and Cons
Pros:
100% free
Interface is user-friendly
Covers the essentials plus some more
Cons:
May not be sufficient for some podcasters depending on expectations/requirements
Probably not the best tool for noise separation
Arguably needs some better standardized support avenues
#3: Pro Tools
For a more high-end experience, you may want to consider Avid's Pro Tools. While used by a wide range of audio and music professionals, Pro Tools can work wonders for podcast editing. Along with the essentials, Pro Tools comes with many advanced features including GRAMMY® winning DAW toolset and plugins.
Relevant Features
Edit and position sound with ease. Trim clips and utilize clip effects to create a high-quality experience. You can even use Pro Tools to create 3D audio for a cinematic, outside-the-box podcasting experience to make your show really stand out!
Streamline your editorial workflow
Use track automation, markers, clip gain, and more to streamline your editorial workflow.
Benefit from Pro Tools' award-winning digital audio workspace. With top-of-the-market DAW integration, you can access plugins, tracks, and sends, and more to edit and mix with ease and efficiency.
Pricing
While there is a free intro to Pro Tools, to utilize this software properly, you'll need to spend at least $99 per year. This isn't too bad for a full year, although the Studio and Ultimate editions are expensive.
Pros and Cons
Pros:
High level of customizability
Compatible with a wide range of audio
Superb user interface
Cons:
Add-ons can be expensive
Especially steep learning curve - may not be ideal for entry-level podcasters
Bit on the pricey side, especially for the more advanced packages
 #4: Fission Audio
Fission Audio is a lesser-known but highly-rated audio editing tool that covers the basics enabling fast podcast editing. With a single lifetime license fee, Fission Audio is another well-suited audio editing software for those on a budget.
Relevant Features
Fission Audio can split files based on silence automatically.
Remove audio with ease by simply selecting the relevant section and clicking cut.
Another handy feature of this tool is the ability to fade audio in and out for smooth transitions.
Pricing
As touched on, you can purchase a Fission Audio lifetime license for just $35 per month.
Pros and Cons
Pros:
Easy to use
Reliable software
Batch converter
Cons:
May not have all that you need
Prone to crashing
Reviews
4 stars out of 53 reviews.
#5: Adobe Audition
Adobe Audition is a prominent audio recording and editing software that can enable podcasters to edit, mix, record, and restore audio. This software comes with a whole host of additional features, which is unsurprising given its high-end and professional quality.
Relevant Features
Audio mixing and mastering
This feature allows you to mix and master your podcast episodes. Some of the benefits of this feature include audio control, white noise elimination, and the capacity to streamline your audio editing.
Adobe Audition is also a great tool for recording top-notch podcasts. Benefit from this tool's many features such as levels adjustment and even multitrack recording, with the latter being perfect if you want to create a more creative podcast (e.g., immersive storytelling experience).
You can also use Adobe Audition to repair and restore audio files; perfect if something went awry with your recording that you believe you can fix in the editorial phase.
Pricing
Adobe Audition is available in many packages. Most podcasters will find the $20.99 per month edition satisfactory, however, podcast companies will find the Business edition more helpful.
Pros and Cons
Pros:
Can help you create a top-notch studio-quality podcast
Great automations and plugins
Many helpful features like noise reduction and EQ
Cons:
Steep learning curve
Might fail to scrub the timeline to the level you expect
Conclusion
In today's guide, we looked at the five best audition editing tools for Mac, exploring a range of options with different levels of suitability depending on your needs and expectations. We also explored what audio editing software is and why using one of these tools matters.
If you're ready to make the audio editing experience more efficient so you can spend more time focusing on the creative and fun parts, Cleanvoice is the solution for you! Use our AI-powered features to remove silence, filler words, background noise, and much more. Take a look at our pricing, and find a plan that works for you today!