(2023) The Ultimate Guide to Transcribe Audio to Text: How-To + Tools
As podcasts continue dominating digital airwaves, the demand for efficient and accurate audio-to-text transcription tools has skyrocketed.
Professionals in the podcasting industry (and beyond) are now realizing the significance of transcribing spoken content into written form. Transcribing audio helps you reuse the content and shoot up your reach to more listeners.
In this Cleanvoice article, we'll talk more about converting audio to text—how to do it, which tools to use, and how to get the highest quality transcription results.
Let's get started.
What Is Audio Transcription?
Audio transcription is the process of converting spoken words from audio files into written text.
In the context of podcasts, transcription is important for making podcast content accessible to people who are hard of hearing or cannot listen to audio files, as well as repurposing content for non-audio media like:
Podcast descriptions
Show notes
Images and graphics
Blog posts
Newsletters
Transcription can be done manually (albeit with a long turnaround time) or with the help of speech-to-text (STT) and speech recognition technologies.
Take Cleanvoice, for example. Our AI transcription algorithm specifically detects and transcribes the spoken word in the podcast medium. It can generate accurate transcripts for full episodes in minutes. It also takes care of audio cleaning and automatically detects multiple speakers in your podcast.
Why Transcribe Audio to Text?
Improves SEO Rankings
In simple terms, get on the top when listeners search for a term related to your podcast topic, and reach more listeners' feeds.
Search engines index and crawl text. To make your podcast more discoverable, transcribe your podcast audio to text and convert it into a blog. You can even reuse it on your website.
Get found across search engines, social networks, and other platforms.
Increases Accessibility
Audio transcription broadens the accessibility of your podcast, catering to a diverse audience, including those with hearing impairments or those who prefer written content. By providing a text-based alternative, you make sure that your podcast is inclusive and can be enjoyed by a wider range of listeners.
Saves Time and Effort
While it may seem counterintuitive, transcribing audio to text can actually save time and effort in the long run. Having a written version facilitates easy reference, editing, and repurposing of content. It streamlines the creation of show notes, blog posts, or promotional material, making content management more efficient.
And with Cleanvoice's automatic transcript repurposing, you can let AI handle the creation of podcast descriptions, social posts, summaries, chapters, and more.
Bonus: Automatically create podcast summary from transcription
--> Admit it, no one likes to read the pages-long transcription, and neither do you.
--> Try Cleanvoice's AI podcast summary tool. It generates crisp summaries and show notes of your podcasts in no time. It also gives search-engine-friendly titles, adds relevant keywords to your summary, and provides chapter markers.
Criteria To Consider When Choosing Tools To Transcribe Audio To Text
Accuracy
Choosing a transcription tool with high accuracy is paramount. Look for platforms like Cleanvoice that use advanced AI algorithms to ensure precise and error-free transcriptions that maintain the integrity of your podcast content.
Transcription Needs
Consider the specific requirements of your podcast. Some tools may excel in transcribing different accents, languages, or jargon. On the other hand, some tools may be great for detecting multiple speakers.
Choose a tool that's designed for the kind of content you create and the specific language needs of your audience.
Pricing
While selecting a transcription tool, look for platforms that offer competitive rates or even free plans. This way, you can get started without breaking the bank.
Free trials are also important for testing the tool.
Try out this tool with free trial
Cleanvoice offers 30 minutes of free audio transcription. Hence, check out its accuracy of transcription beforehand.
Ease of Use
Opt for a user-friendly platform that simplifies the transcription process.
Intuitive interfaces, straightforward upload procedures, and easy navigation contribute to a seamless experience for podcast professionals.
Turnaround Time
Consider the speed at which a transcription tool delivers results.
Look for platforms that offer quick turnaround times, ensuring that you can efficiently integrate transcriptions into your content creation workflow.
Security
Security is an issue with many transcription tools.
Otter recently came under fire when a journalist revealed that transcripts generated by the tool could be sold to third-parties and accessed by employees for marketing and analytics purposes.
Check each tool's security policy carefully.
How To Transcribe Audio to Text Using Cleanvoice
1. Sign-up or Login for a Free Account
Begin your transcription journey by creating a free Cleanvoice account or logging in if you're already a user.
Cleanvoice can edit single-track or multi-track audio files, but you'll need to specify which type of track you're working with when uploading your audio.
2. Configure Features
In addition to audio transcription, Cleanvoice offers features like dead air, stuttering, and mouth sound removal, background noise reduction, hesitation reduction, and more.
Configure which features you'd like and hit "Upload" to add your audio file.
4. Sit Back and Relax
All that's left to do is wait for Cleanvoice to do its job. Once the audio has been transcribed, you can review and edit the text before saving your work.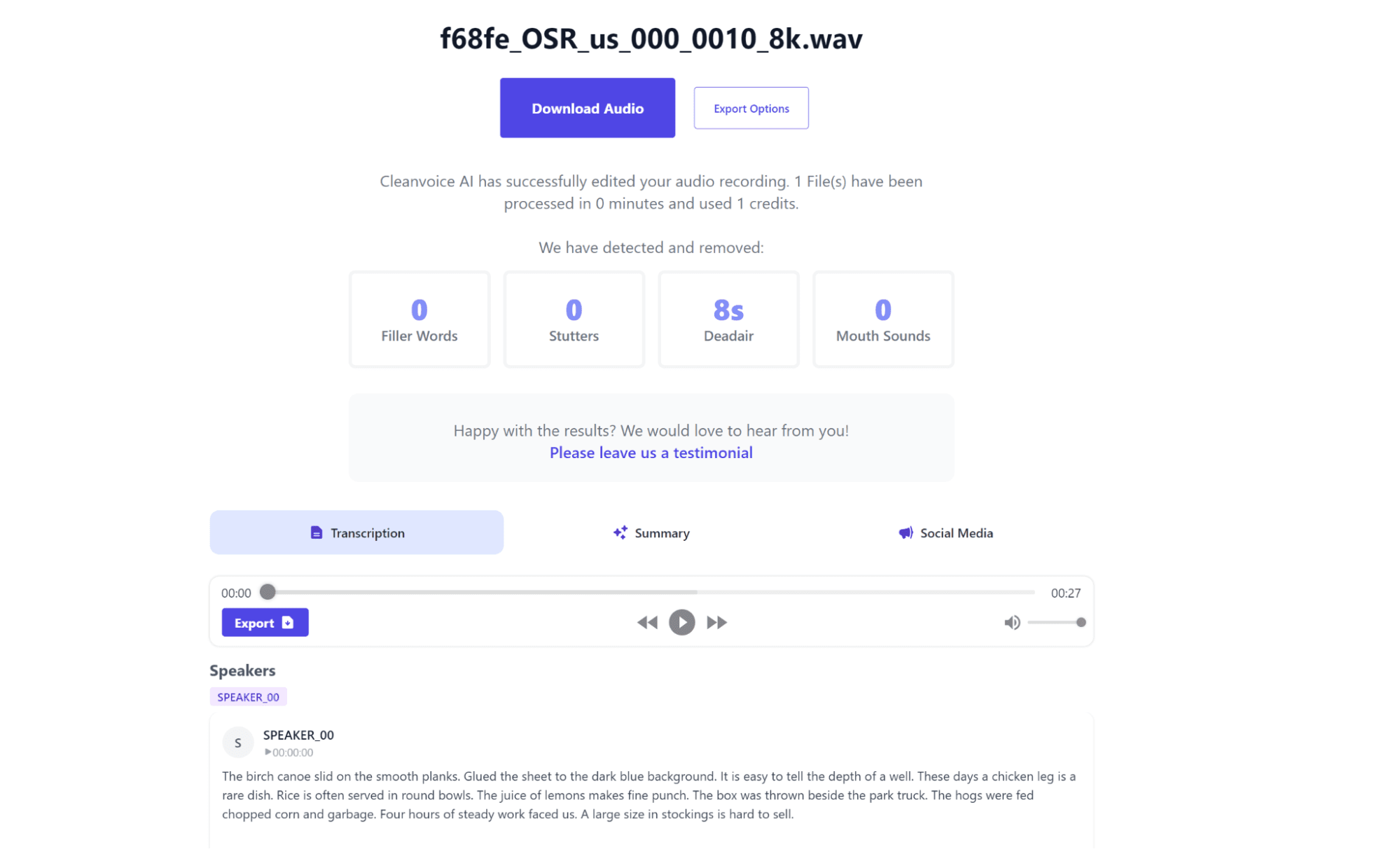 If you want to repurpose your content, you can navigate to either the Summary or Social Media tab. You can edit the transcript by clicking on it and making edits like you would in a word processor.
5 Best Tools for Transcribing Audio to Text
Check out our top chosen tools for the best audio-to-text converters.
Cleanvoice
Riverside
Happyscribe
GoTranscript
Inqscribe
1. Cleanvoice
Cleanvoice is an AI-powered audio editing tool designed for podcasters and podcast editors.
Cleanvoice features automatic audio editing capabilities that identify and remove imperfections like mouth sounds, stutters, background noise, level inconsistencies, dead air, and hesitations. Its AI transcription is fast, accurate, and highly repurposable—you can transform your transcripts into social posts and descriptions without leaving the tool.
Relevant Features
Converts spoken content into written text for efficient content repurposing for a broader audience.
Enhances audio quality by identifying and eliminating distracting mouth sounds. It gives you a more polished and professional podcast experience.
Seamlessly blends and optimizes audio elements for a clear sound quality and professional finish.
Background Noise Remover:
Utilizes advanced algorithms to detect and remove unwanted background noise.
Streamlines audio content by identifying and eliminating extended periods of silence.
Transform spoken content into versatile written formats for enhanced accessibility, sharing, and content utilization.
Pricing
Cleanvoice offers flexible pricing options with a choice between Subscription and Pay-as-you-go plans.
The Pay-as-you-go option starts at €10 for 5 hours, with options for 10 and 30 hours. The Subscription plan includes monthly plans ranging from €10 for 10 hours to €80 for 100 hours.
We also offer a free trial that supports 30 minutes of audio, so you can try before you buy.
2. Riverside
Riverside is an all-in-one podcast and video recording and editing platform that offers studio-quality sound and editing features to bring audio content to life.
The platform distinguishes itself by locally recording both hosts and guests, avoiding issues associated with poor or unstable internet connections.
Relevant Features
Automatic Transcriptions: Convert spoken content into written text to appeal to a broader audience.
AI Social Clips: Automatically generate clips to enhance the reach of content on social media.
Multi-Track Recording: Record separate audio tracks for each host and guest, which can be adjusted independently.
Pricing
Riverside offers four main pricing options—Free, Standard ($15), Pro ($24), and Business (custom).
Higher tier plans offer higher multi-track recording limits as well as access to advanced features like 4K video, screen sharing, and livestreaming.
3. Happy Scribe
Happy Scribe is a subtitling and transcription platform that offers both AI and human-powered options.
Its AI transcription service features a quick turnaround time, high accuracy, and a personal glossary for words the AI might not recognize. If you're looking for near-perfect transcripts, the human transcription service is the way to go, as it offers 99% accuracy guaranteed.
Relevant Features
AI & Human Transcription: Choose between the convenience of AI and the accuracy of human transcription.
Personal Glossary: Create a personal glossary to help the AI recognize words.
Easy Sharing: Share transcripts with co-hosts, editors, social media managers, and anyone else who needs access with sharing links.
Pricing
Happyscribe has four pricing plans to choose from: Free, Basic ($10), Pro ($17), and Business ($29).
They also offer an optional add-on for human services, where you delegate the task of double-checking the AI-based output and save time and headache.
4. GoTranscript
GoTranscript is another platform that offers both AI and human-based audio to text transcription services—but it's mainly known for the latter.
The platform employs experienced transcriptionists that are trained to carefully transcribe audio and video files from scratch, ensuring that the transcription is of the highest quality. They also offer translation services covering over 70+ languages.
Relevant Features
99% Accuracy Guaranteed: Get a highly accurate transcription that you can trust (or your money back).
Flexible Turnaround Times: Relieve your transcript in as little as 6 hours or choose a longer window for a discount.
AI Transcription: For a faster and cheaper solution, their AI transcription offers high-quality results in minutes.
Pricing
Pricing for GoTranscript varies based on the service you choose and the turnaround time.
Human transcription starts at $0.84 per minute of audio.
5. Inqscribe
Unlike the other tools on this list, Inqscribe doesn't generate transcripts—it's a tool that lets users create transcripts themselves.
It features mouse-free media controls, simple time-coding, and a range of exporting options to make transcription easier.
Relevant Features
Mouse-Free Media Controls: Facilitates hands-free navigation of media playback controls.
Export Transcripts: Lets users download and export transcriptions.
Simple Time-Coding: Make notes and find time-codes easily.
Pricing
An individual license costs $99 and stays valid forever.
Conclusion
Audio-to-text transcription tools make it easier for you to transcribe hours-long audio in minutes. Moreover, this allows you to reuse these transcriptions and get your podcast on top of the search. You end up in the feed of a larger section of the audience.
The tools on this list are a great starting point—but make sure you find the one that works best for your podcasting needs.
At Cleanvoice, we offer podcasters an AI transcription tool that also cleans and enhances podcast audio. Whether you're looking to reduce background noise or eliminate annoying mouth sounds, Cleanvoice can deliver crystal clear audio in minutes. Try Cleanvoice for free today!